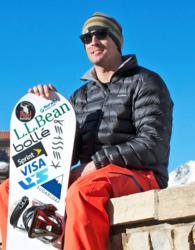 Freeport, Maine (PRWEB) December 20, 2011
L.L.Bean, a leading outdoor equipment and apparel merchant, today announced a multi-year partnership with one of the most accomplished and decorated riders in snowboarding history. Seth Wescott will serve as a brand ambassador and work with L.L.Bean outerwear product developers to provide insights on new designs and conduct product testing. Mr. Wescott will make appearances on behalf of L.L.Bean as the company celebrates its 100th anniversary in 2012.
Wescott has reached the podium in every major snowboardcross event in the world and is widely recognized as a true pioneer and global ambassador for the sport of snowboardcross (SBX). In addition to his competitive career, the avid outdoorsman can be found big mountain riding among the peaks of Alaskas mountain ranges for a month each spring or catching waves on his surf board along the Maine coastline and around the world throughout the year. A native of Farmington, Maine, Wescott recently returned from a back-country adventure in Antarctica where he explored challenging terrain while product testing L.L.Bean outerwear in preparation for his 2011-2012 season.
Seth and L.L.Bean share many of the same values a love and respect of the outdoors and a passion to educate and inspire youth to enjoy the outdoors, said Steve Fuller, L.L.Bean Chief Marketing Officer. He will be a great brand ambassador both here in Maine and around the world.
As L.L.Bean nears its 100th anniversary, the company plans to focus efforts on creating events and activities that encourage young people to participate and enjoy outdoor sports. I grew up in Maine and with L.L.Bean, said Mr. Wescott. As a Mainer, Im proud to be associated with a Maine brand that has always been associated with quality, outdoor recreation and healthy active living. The partnership between L.L.Bean and Wescott also includes support of one of his charitable initiatives, Level Field Fund, which helps bridge the gap in funding for uniquely talented athletes. L.L.Bean will contribute to Level Field Fund-Maine in an effort to help fund talent and fuel dreams of Maines aspiring athletes in need of assistance.
About L.L.Bean, Inc.

L.L.Bean, Inc. is a leading multi-channel merchant of quality outdoor gear and apparel. Founded in 1912 by Leon Leonwood Bean, the company began as a one-room operation selling a single product, the Maine Hunting Shoe. While its business has grown substantially, the company remains committed to the same honest principles upon which it was built a focus on the customer, continuous product improvement and innovation, respect for people, preservation of the natural environment and a 100% satisfaction guarantee. L.L.Bean products are rigorously tested, guaranteed to last and always shipped free. The 220,000 sq. ft. Flagship campus of stores in Freeport, Maine is open 24 hours a day, 365 days a year and welcomes more than three million visitors each year. L.L.Bean can be found worldwide at llbean.com. Join L.L.Bean on Facebook, Twitter and YouTube.
About Seth Wescott

A three-time U.S. National Champion, nine-time Winter X Games medalist, and four-time World Championships medalist, Wescott is a spokesman for Maines Take it Outside and WinterKids programs that support healthy and active lifestyles across the state. He also serves as an ambassador for the Level Field Fund, a grant-giving program that bridges gaps in funding for uniquely talented athletes in need of financial assistance, and has spearheaded the efforts to establish Level Field Fund Maine. A native of Farmington, Wescotts sponsors include: Bern, Bolle, L.L.Bean, Norway Savings Bank, Points North Heli, Sprint, Sugarloaf, and VISA. Wescott is represented by Octagon.
###