United Kingdom (PRWEB UK) 6 December 2012
Modern and attractive, the new website is designed to be not only a more localised take on PhysioRoom.com but packed with all of the features customers have come to expect from the brand.
As with the original .com site PhysioRoom.de offers a range of high quality rehabilitation and fitness products for professional athletes and sports enthusiasts.
Geographical and social interests of consumers have helped to shape the sites marketing with products catering particularly to sports such as football, handball and skiing.
The decision to expand business into Germany was spurred by the brands success in the country with a high volume of sales across product ranges like supports & braces, taping & strapping and sports clothing & accessories.
The care taken into the research and design of the new website means that PhysioRoom.de will not only better cater to the demands of customers, but will also be the first stage of the brands international expansion.
Detailing what customers in Germany can expect from the new website, Peter Lilley Founder of PhysioRoom.com said: Its our intention that PhysioRoom.de will be just as user friendly as our English website with all the articles and expert advice our global customers find so helpful. Next year we shall be launching not only top quality content pages on our .de domain we also hope to announce the launch of a Bundesliga Injury Table. Watch this space!
Coming soon to PhysioRoom.de are expert advice pages, a newsletter service, blogs and video content.
To keep up to date with the latest brand news, follow @PhysioRoom on Twitter.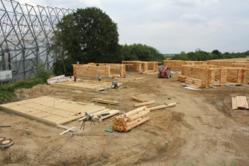 Honesdale, Pennsylvania (PRWEB) February 17, 2012
The fifteen log cabins at Germanys Snow Dome Resort Hotel, exclusively provided by Estemerwalt Log Homes, are now open for business. Located just south of Hamburg, Germany, the Snow Dome Resort Hotel is the first log cabin hotel in Germany. The logs were shipped in two shipments from Estemerwalt Log Homes Pennsylvania facility to the resort in Bispingen in May and July 2011. Each of the fifteen cabins was erected onsite and is now operational at the resort with reservations for the season.
The Snow Dome is an indoor skiing, snowboarding and ice climbing center, which also features the longest toboggan run in northern Germany. Additionally, the Snow Dome property also offers non-winter sports, including the largest standing wave in Europe, a skateboarding park as well as an electric park for Segways, electric skateboards and electric bikes. The Snow Dome Resort Hotel is adjacent to the Snow Dome, making it an ideal retreat for families, company groups and professional organizations. Estemerwalt Log Homes supplied all the log components for the lodging facilities.
Beth Reece, Marketing Director for Estemerwalt Log Homes says The proximity of the Snow Dome to Hamburg and other metropolitan areas of Germany make the Resort Hotel a convenient retreat and fun getaway for all seasons. Our log homes complete the look and feel of a mountain retreat, and also provide a significant eco-benefit, given the low carbon footprint of log construction. Weve done countless projects across the US and Europe, and continue to be awed by how beautifully our log homes and log cabins fit with the varied scenery across continents.
Each of the fifteen log cabins is made of 12 diameter milled logs for uniformity and efficiency. They feature two bedrooms with two beds, a living room with cathedral ceiling, desk, digital television and two other optional sleeping areas. The rooms feature a modern, minimalist decor and furnishings. The heating of the log cabin lodging is via wood stoves and theyre powered with renewable energy, says Kurt Propst, owner of Estemerwalt Log Homes. The logs themselves are environmentally friendly, and the Resort Hotels commitment to sustainability only furthers the advantages of log construction.
Estemerwalt Log Homes creates one of the most comprehensive log home packages in the industry, offering a wide variety of log profiles, including D-Log, Half Log, and the ever popular Full Round Log. For more information on Estemerwalt Log Homes, please call 1.800.515.2060, visit them online at http://www.estemerwalt.com, or follow them on Facebook at http://www.facebook.com/estemerwaltloghomes. For media inquiries, contact Scott Rouleau at Rouleau Communications at 860-677-0560 or via email at scott(at)rouleaucomm(dot)com.
###
Related Snowboard Press Releases
Buckman's: 2011 TransWorld Business Mid Atlantic Retailer of the Year
JP Walker, Louie Vito, Mason Aguirre, Seth Morrison, Jake Blauvelt, Jussi Oksanen, Mikey Rencz, Terje Haakonsen, Pep Fujas, Danny Kass, Dingo, Glen Plake, Sebastien Toutant, Bjorn Leines, Todd Richards, Bobby Brown, Aaron Biittner, Iikka Backstrom, ...
Read more on Transworld Business
Look Who's Calling Curtis Ciszek
He also beat out a heavy field of contenders, including banked slalom race master Terje Haakonsen, for the Fifth Annual Dirksen Derby thrown last week. Ciszek has been around for a while, but he hasn't ever had a showing this solid. ...
Read more on ESPN (blog)
Longmont, CO (PRWEB) October 21, 2006
A number of ski resorts are out to improve the publics perception of their green business practices. These progressive companies are responding to growing customer sentiment that environmentally responsibility is important in selecting their vacation destinations. Not to mention serious concerns ski resort operators have about global warmings impact on their bottom line (less snow, shorter ski seasons, etc.)
In 2005 and 2006, several resorts have stepped up to the plate and made significant improvements in their earth-friendly business practices in areas such as resource efficiency, clean energy and habitat conservation. Notable examples include:
Whistler Blackcomb, British Columbia
2005 NSAA golden eagle award for environmental excellence
18% reduction in energy usage compared to 03/04 season
Dedicated $ 320,000 to conservation initiatives
Reduced waste by more than 540 tons per year
Aspen, CO
First Colorado ski resort to purchase enough wind power to offset 100% of its electricity use
Joined lawsuit against EPA stance against regulating greenhouse gas emissions
Moonlight Basin, Big Sky, MT
2005 NSAA silver eagle environmental award for conservation
Extensive rehabilitation of land holdings damaged by logging
Resort development plan calls for 85% of property to remain in natural state
Vail, Colorado
Committed to renewable energy in August, 2006 becoming the second largest corporate purchaser of wind energy, behind Whole Foods
Partnered with National Forest Foundation to raise $ 600,000 for winter conservation projects
More detailed information on ski resorts and their green business practices can be found at the National Ski Areas Associations sustainable slopes initiative website at:
http://www.nsaa.org/nsaa/environment/sustainable_slopes/
Greenbuz.com is a free email newsletter and website that identifies unique, innovative and environmentally friendly products and services.
###