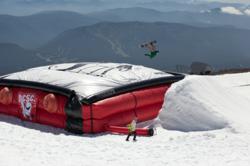 Portand, Ore (PRWEB) March 09, 2012
High Cascade Snowboard Camp has announced the 2012 dates for its summer snowboard
ing camps on Mt. Hood, Ore. Thanks to the hundreds of inches of winter snow and the glacier on Mt. Hood, High Cascade is able to run the best summer camps on-snow from June through August. The eight-day summer camps at Timberline Ski Area are for ages 9 and over, boys and girls, men and women, beginners to pro. All-inclusive rates start at $ 1975 and cover 24-hour supervision, airport shuttles, lodging, food, lift tickets, two private snowboard
parks, professional coaching, private skateboard park, off-hill activities and signature sessions with pro riders. For more information call 800-334-4272 or visit http://www.highcascade.com.
High Cascade Snowboard Camp has been running summer camps for snowboard
ers since 1989. Today the staff of 100, host 200 campers in each of six summer sessions. 2012 session dates are Session 1: June 15 22, Session 2: June 25 July 2, Session 3: July 6 13, Session 4: July 16 23, Session 5: July 26 August 2 and Session 6: August 5 12. Youth Camps are available for boys and girls ages 9 20 and Adult Camps for men and women 21 and older.
Daily, coached snowboard
ing is in two private parks at Timberline Ski Area. The Main Park features a 22 Super Pipe (a half-pipe built by Pat Malendowski, builder of the 2002 Olympic pipe and the Burton US Open pipes for the last decade), mini-pipe, large, medium, and small jumps, a variety of hip jumps and a multitude of different rails, boxes and other obstacles. The Lap Park offers a continuous flow of fun-sized jumps, boxes, rails, and hip jumps for all ability levels. Lodging for campers at High Cascade includes chalets at the base of Mt. Hood in the village of Government Camp, Ore. (about one hour from Portland).
Regarding riding ability of camp attendees, Meagan Sorensen, Executive Director of High Cascade Snowboard Camp said, The majority of our campers are low to intermediate park level riders who want to improve their jump, rail, and pipe riding. A lot of campers come to High Cascade with little or no park experience, but want to learn to ride in the park. Many campers are working on straight airs and 50-50s. Some are learning 3s and board-slides, and a few are even working on 5s, 7s, 9's and technical rail tricks.
When asked about the appeal of a summer camp for a winter sport, Sorensen answered, The warm temperatures and soft snow definitely make it an easier learning experience, and being one of the only places in the world that offers summer boarding allows us to get the high concentration of top caliber coaches and pros, which are both huge reasons to come to our camp.
For the beginners, High Cascade offers a revolutionary learn-to-snowboard program developed in conjunction with the Burton Academy. High Cascades Soft Start program offers easy to ride boards, boots, and bindings designed specifically for beginners. For female campers, HCSC Girl is the camps way to warmly welcome and encourage girls in a supportive snowboard
ing mini-all-girl-world within the friendly confines of a co-ed camp.
In addition to youth and adult, SoftStart and HCSC Girl, High Cascade is also known for its world-class coaching offering 30 different small group coaching sessions during each eight-day camp to include: freeride, lap park, jump, rail, and halfpipe clinics for all abilities. Each session also offers optional clinics coached by professional snowboard
ers who are at the camp for the Signature Sessions.
Operating since 1989, High Cascade Snowboard Camp is an all-inclusive summer snowboard
camp located on Mt. Hood, Oregon. Thanks to Mt. Hoods glacier and massive winter snowfalls the camp is able to offer snowboard
sessions all summer long. The six sessions of eight-day summer camps offer coached snowboard
ing on two massive, lift served private parks, a 22,000 square foot skateboard park, and photography and video workshops. High Cascades mission is simple and honest: "Life improvement through snowboard
ing. For more about High Cascade Snowboard Camp visit http://www.highcascade.com/.