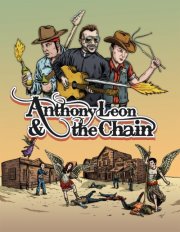 Santa Fe, NM (PRWEB) February 24, 2012
Presented by SantaFe.com and Ski Santa Fe, the 8th annual Beats on the Basin concert series features Anthony Leon and The Chain, starting at noon and ending at 3 p.m., Saturday, Feb. 25, at Ski Santa Fes Totemoffs Lodge, located at the midway point of the mountain. Admission to the concert is free to all skiers on the mountain with a lift pass, making this Saturday an affordable, fun event for anyone interested in enjoying the merriment.
Hailing from Virginia, Anthony Leon brings a talent to the stage that is a rarity in these modern days of DJ and music mixing superstars. With a music background coming from almost as far back as one can think, Leon delivers music to his audience that is so heartfelt and so pure that, on occasion, youll see him shed a tear when performing a song he wrote that means something extra special to him.
Leon has been writing his own music since he was a child, and at the age of thirteen he recorded his first original piece of music, Granddaddys Guitar, at Sun Studios in Memphis, Tennessee. Anthony Leon and The Chain transport ability and feeling to the stage that truly moves their growing legion of fans. They are unafraid to sing songs about looking for truth, purpose, love, and about lifes regrets. Leon is truly a great songwriter, and he and his band are talented performers. If you do get to listen to them, youll be happy that you did.
The series supports the Adaptive Ski Program, a Santa Fe-based nonprofit devoted to providing safe, supportive ski and snowboard
lessons to adults and children living with disabilities. The Adaptive Ski Program is offered at three ski areas in New Mexico including Ski Santa Fe, Sandia Peak Ski Area in Albuquerque and Pajarito Mountain in Los Alamos.
We are proud to again provide Ski Santa Fe skiers and snowboard
ers with top-notch musical entertainment during Beats on the Basin, said Adaptive Ski Program Director, Katya Franzgen. This is the fourth year that this concert series has provided support and awareness for the Adaptive Ski Program, which since 1985, has provided access to the thrill and fun of skiing to those individuals living with physical and/or cognitive challenges.
About Ski Santa Fe

Ski Santa Fe, located 16 miles from downtown Santa Fe, boasts a base area elevation of 10,350 feet above sea level. The ski area features seven ski lifts, including one quad chair lift, two triple chair lifts, two double chair lifts and two conveyor lifts. The mountain has a 12,075-foot summit, 1,725 vertical feet of skiing, 660 acres of terrain and 77 ski trails, with the longest run measuring three miles. Ski Santa Fe services and amenities include a PSIA-certified ski school, the Chipmunk Corner Childrens Center, the new The Bone Yard freestyle terrain park and Childrens Adventure Land. Ski Santa Fe receives an average of 225 inches of snowfall and has snowmaking equipment covering 50 percent of the mountain. The ski area is located within the Santa Fe National Forest.
About SantaFe.com

SantaFe.com provides Santa Fe locals and visitors alike the most current interactive platform for events, music, arts, business, dining and lifestyle. SantaFe.com is a division of Hutton Broadcasting, located at 2502 C. Camino Entrada, Santa Fe, NM 87507
Contact Information:

Scott Hutton

SantaFe.com / Hutton Broadcasting

http://www.santafe.com
# # #
Find More Snowboard Press Releases