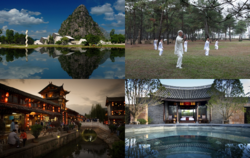 (PRWEB UK) 16 January 2012
January 23rd sees the start of 14 days of celebrations for Chinese New Year. This year, according to the lunar calendar, it is the year of the Dragon: inspiring bravery, creativity and pioneering spirit. AdventureTemples have brought this intrepid philosophy to life, in an outstanding luxury adventure holiday, which transports you to an ancient, mystical corner of China in supreme opulent comfort.
AdventureTemples believe great holidays should stimulate the mind, body and spirit. Their Mystical Valleys journey starts deep in the verdant gorges of Guilin, at the 5* Hotel of Modern Art (HOMA). There, guests can learn the ancient Chinese arts of calligraphy, ink painting, printmaking, pottery, stone carving and jewellery making, against the inspirational backdrop of a billion-dollar park.
Yuzi Paradise was created by entrepreneur Rhy Chang Tsao. He tells us, By infusing cultural elements into our beautiful natural surroundings, we offer a new experience of art and nature. The remarkable landscape of Guilin has inspired films like Crouching Tiger, Hidden Dragon and guests personal VIP-hosts, help them to explore it to the full with guided cave treks, mountain biking and lake-side yoga or Tai-Chi.
Next, it is off to the 5* Banyan Tree in ancient Lijiang, sitting in the shadow of the magnificent Jade Dragon Snow Mountain. The area offers up nature and culture, in blissful harmony from hiking, skiing and horse riding through flora and fauna sanctuaries, to exploring the ethnic charms and architectural styles of the old towns UNESCO World Heritage Site, also known as the Venice of the Orient. Fine cuisine under the stars is the perfect way to end your Chinese Dragon adventure.
This trip was voted as one of the 50 Best Luxury Adventure Holidays in the World for 2012, by AdventureTemples online community of experts, and costs from