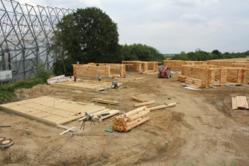 Honesdale, Pennsylvania (PRWEB) February 17, 2012
The fifteen log cabins at Germanys Snow Dome Resort Hotel, exclusively provided by Estemerwalt Log Homes, are now open for business. Located just south of Hamburg, Germany, the Snow Dome Resort Hotel is the first log cabin hotel in Germany. The logs were shipped in two shipments from Estemerwalt Log Homes Pennsylvania facility to the resort in Bispingen in May and July 2011. Each of the fifteen cabins was erected onsite and is now operational at the resort with reservations for the season.
The Snow Dome is an indoor skiing, snowboarding and ice climbing center, which also features the longest toboggan run in northern Germany. Additionally, the Snow Dome property also offers non-winter sports, including the largest standing wave in Europe, a skateboarding park as well as an electric park for Segways, electric skateboards and electric bikes. The Snow Dome Resort Hotel is adjacent to the Snow Dome, making it an ideal retreat for families, company groups and professional organizations. Estemerwalt Log Homes supplied all the log components for the lodging facilities.
Beth Reece, Marketing Director for Estemerwalt Log Homes says The proximity of the Snow Dome to Hamburg and other metropolitan areas of Germany make the Resort Hotel a convenient retreat and fun getaway for all seasons. Our log homes complete the look and feel of a mountain retreat, and also provide a significant eco-benefit, given the low carbon footprint of log construction. Weve done countless projects across the US and Europe, and continue to be awed by how beautifully our log homes and log cabins fit with the varied scenery across continents.
Each of the fifteen log cabins is made of 12 diameter milled logs for uniformity and efficiency. They feature two bedrooms with two beds, a living room with cathedral ceiling, desk, digital television and two other optional sleeping areas. The rooms feature a modern, minimalist decor and furnishings. The heating of the log cabin lodging is via wood stoves and theyre powered with renewable energy, says Kurt Propst, owner of Estemerwalt Log Homes. The logs themselves are environmentally friendly, and the Resort Hotels commitment to sustainability only furthers the advantages of log construction.
Estemerwalt Log Homes creates one of the most comprehensive log home packages in the industry, offering a wide variety of log profiles, including D-Log, Half Log, and the ever popular Full Round Log. For more information on Estemerwalt Log Homes, please call 1.800.515.2060, visit them online at http://www.estemerwalt.com, or follow them on Facebook at http://www.facebook.com/estemerwaltloghomes. For media inquiries, contact Scott Rouleau at Rouleau Communications at 860-677-0560 or via email at scott(at)rouleaucomm(dot)com.
###
Related Snowboard Press Releases