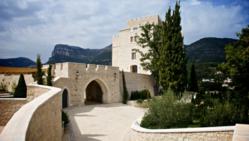 London, UK (PRWEB) November 28, 2011
The resolutions from Quintessentially Villas are ones that people can stick to, and involve indulgence of some sensational villa escapes from the Europe to the rocky mountains of Canada.
Be King of the Castle
Quintessentially Villas understand that every persons home is his castle, but wouldnt it be amazing to live out the dream for once? It doesnt just have to be in fairytales. Make it a New Years resolution to escape to a castle, by enjoying a royal retreat at Chateau Saint Jeannet. This spectacular 11th century fortress has been lovingly restored and transformed into a luxurious and enchanting fairytale domain. Prominently positioned on a hilltop, Chateau Saint Jeannet boasts stunning panoramic views, from which one can admire a kingdom. Perfect for weddings or private functions, Chateau Saint Jeannet is the ultimate magical escape.
Play it Cool…
This new year play it cool…literally! The slopes are a great place to let off some steam, enjoy yourself and stay active with the ultimate skiing experience at Canadas Big White Ski Resorts largest single-family home, Crescendo. Epitomising Alpine luxury, this ski-in chalet offers a superb location and facilities for the ultimate skiing escape. Innovatively designed, Crescendo offers a view of the slopes and Monashee Mountains from every room. By hitting the slopes someone can experience the skiing experience of dreams and then move on to snuggling up in the chalet.
Go Wild!
Unleash the adventurous child within someone and head to Ulusaba Private Game Reserve in South Africa. Of course the team at Quintessentially Villas wouldnt recommend any safari lodgings. Ulusaba is Sir Richard Bransons private lodge located in the Western sector of the Sabi Sand Private Game Reserve, where one can enjoy safari walks, moon-lit bush dinners and daily game drives in the hunt for spotting the Big Five. If that adventurous child within gets a little tired, Ulusaba Private Game Reserve is also the ideal place to kick back and unwind, redefining safari lodging, the get back to nature resolution may be a lot easier than one thinks.
Education and ancient cultures
Go far afield and experience other cultures and heritages at the Polheena Estate, Sri Lanka. Guests can integrate with the nature, heritage and cultural influence of the Island, a bespoke experience perfect for both individuals and families. Located only minutes from the historic port town of Galle, Polheena Estate provides the ideal platform for anyone to explore a new world. Designed to retain its original charm and provide luxurious comfort for guests, Polheena Estate is a refuge from the modern world and a haven from which to explore a very different and exciting culture.
For all press enquiries regarding Quintessentially Villas, please contact: Felicity Gale: +44 (0) 203 073 6673 / E: felicity@quintessentiallyvillas.com
About the Company:
Quintessentially Villas is a sister business of Quintessentially. Quintessentially is the leading international luxury lifestyle company. Launched in 2000 as a small London based concierge service, Quintessentially has experienced a complete transformation in a decade, and currently have offices in over 64 cities around the world. The service provided to their discerning and HNW members is proactive and personalised, catering to every members need, from last minute restaurant bookings, travel arrangements, and access to private parties, as well as fulfilling every unusual request and successfully connecting businesses all over the world. Quintessentially can offer access to the inaccessible and can make the seemingly impossible, possible. In a bid to ensure only the very best service is delivered across the luxury market, Quintessentially has also launched 32 luxury sister businesses comprised of experts in every luxury division. This includes real estate, travel, luxury retail, wine, art, flowers, private aviation and more (http://www.quintessentiallygroup.com).
###