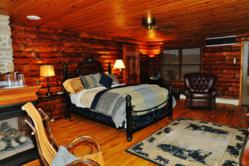 Wellsboro, PA (PRWEB) January 13, 2012
Traditionally cabin fever is the need to escape one's surroundings due to experiencing a long winter trapped inside. In Tioga County, cabin fever is the sizzling excitement generated when one finds that perfect cabin getaway to enjoy a holiday in the mountains near the Pennsylvania Grand Canyon.
Think anything but rustic when considering a winter vacation rental in Tioga County. These are not your "Uncle Harry's" rustic cabin. Flat screen TVs, outdoor hot tubs, beautiful scenery enjoyed from decks while sipping a hot beverage of choice, and easy accessibility make these getaways a pleasure. Whether a visitor wants to do some snowshoeing, snowmobiling, cross country skiing, or shopping, it's the perfect base of operations. It's been a mild winter so far in the mountains, and winter sports can be swapped for hiking, walking, or just relaxing.
Several winter packages are available around Tioga County from downtown Wellsboro, to within the Pennsylvania Grand Canyon, and near Blossburg, home of the annual Pennsylvania Coal Festival. For more information and booking, check out Winter Packages.
###
More Ski Press Releases